24 Sep

The next generation of Co-Sleepers is here!
The Co-Glide by Baby Elegance is their most advanced crib to date! Designed primarily as a beautiful place for little ones to sleep for the first months, helping them to improve sleeping patterns, makes feeding and soothing easier during the night and encourages baby-parent bonding. It is a fantastic 3 in 1 solution: used as a side-sleeping crib, stand-alone crib or as a travel crib using the included travel bag.
The Co-Glide crib allows you to sleep next to your baby without being in the same bed. Your baby can safely sleep in the crib next to you, allowing you to respond quickly, whether it's feeding, changing or they just need some cuddles. boasting a huge range of features.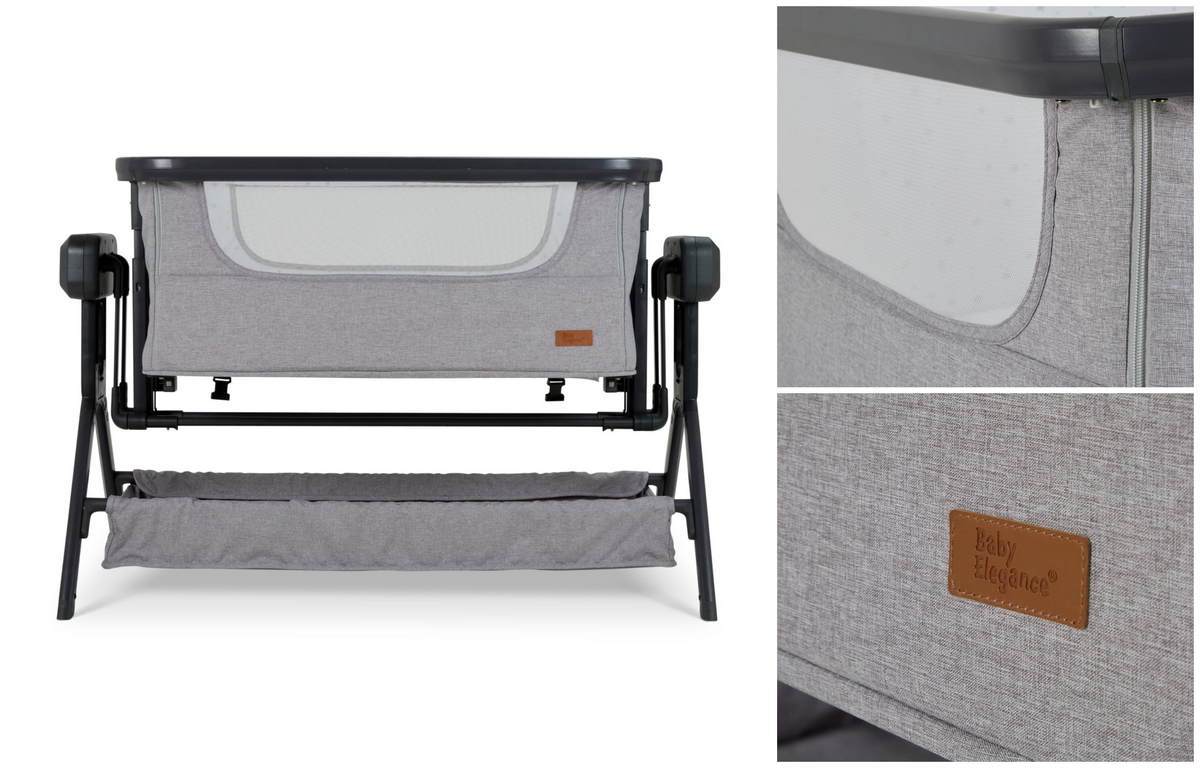 What makes Co-Glide better than the rest?
Co-Glide helps newborns improve their sleeping pattern thanks to the built-in automatic glide function. The crib has 3 levels of glide designed to replicate the movement of a gentle glide as if they are in the parents' arms. This can easily be set on a timer built into the crib or adjusted from the comfort of your bed with the handy remote control.

As if that wasn't enough, the crib also has 3 built-in tracks including white noise to promote a calm sleeping environment. Choose these tracks or simply connect your phone or tablet to the Co-Glide via Bluetooth and play a song of your choice.

Baby Elegance surely does not need an introduction when it comes to creating comfortable and safe mattresses for little ones and they made sure to include a breathable and anti-allergy mattress to ensure a good night's sleep for your babies.

For safety, this crib attaches easily to any bed with the quick release straps when the side has been lowered. The Co-Glide can also be used as a standalone crib anywhere in your home and thanks to its breathable mesh window, you have full visibility of your baby as they sleep.

The Co-Glide crib also includes a large storage basket underneath the crib to keep your little one's nappies, blankets and cuddle buddies handy.

The crib can be tilted by five levels to help the baby's digestion, improve breathing, and reduce reflux.









Important specifications:
5 height adjustable levels

Automatic glide function

3 built in songs/white noises

Includes an anti-allergy fibre mattress

Glide timer

Large storage basket, travel bag, drop side and bed straps included

Max Weight: 9 kg

Dimensions: 113 L x 55 W x 70 H cm
Watch the amazing Co-Glide features: