26 Oct

Posted By
0 Comment(s)
188 View(s)
Tips
Like your little one's first steps, teething is another important milestone. Your baby's teeth are important for solid foods, to learn to talk and more. Teething can be a very frustrating phase for you and your little one!

Most babies' teeth will begin to show between the ages of 4 to 6 months. However, some infants are early teethers and might get their first tooth at the age of 2 to 3 months. Not all babies show teething symptoms - for those who do, some symptoms might include skin rash, gum swelling and sensitivity, sleep problems or fever, drooling and chewing on objects.
We have prepared a list of ideas to make your little one feel better during this phase!
1. Chilled Teethers:
Teethers are a necessity during this phase. They are specially designed for the littlest of hands to hold while little ones bite for relief of tender gums. These are usually filled with water or with PureIce Gel allowing the teethers to cool in the refrigerator in order to relieve tender and swollen gums.
Other teethers are also designed to entertain such as the Infantino Slide & Chew Teether Keys. These eye-catching keys stimulate baby's developing vision while promoting early number recognition! Your little one will surely love biting the keys while his tiny fingers slide and shake the colourful beads.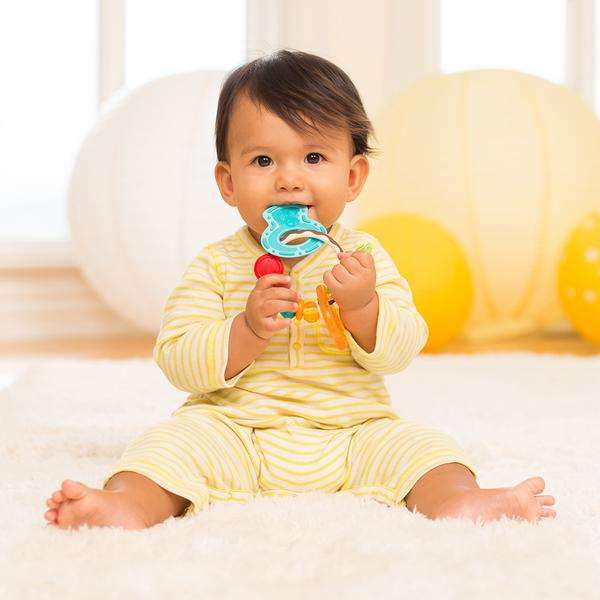 2. Teething Toys:
Loved by millions of children (and parents!) around the world, Sophie la Giraffe surely does not need an introduction. It is designed to stimulate the five senses and soothe teething pains. Made of 100% natural rubber and food-grade paints, Sophie la Giraffe is completely safe to chew. Features soft and flexible textures and numerous chewable parts (ears, horns, legs), making her perfect for soothing baby's sore gums during teething. Thanks to its compact form, this teether makes it easy for tiny hands to grab and chew.
The Infantino Bendy Tubes are also suitable for teething babies - featuring numerous BPA-Free silicone tubes containing multi-sensory beads ideal for teething relief. This rattle is extremely light, making it easy to handle. Its features are ideal for awakening baby's senses and help them develop motor skills.
Lapidou Silicone Teethers by Nattou are also perfect for small itchy teeth. These teethers feature beech wood (a naturally antibacterial material) and little silicone characters. The patterned silicone ring and pendent make them extra nice to bite.

3. Teething Accessories:
The Munchkin Fresh Food Feeder is a smart alternative to a teething toy. Simply put a refrigerated fruit or vegetable in your little one's food feeder and let them enjoy chewing and sucking on food safely while also taking the important nutrients.
Mittens have always been known to prevent scratches. The Nuby Teething Mitten is a solution for babies who cannot keep hold of teethers, while also protecting babies from chewing on their hands and scratching their faces. These special mittens feature brilliant colours, textures and crinkle sound to stimulate senses. The soft silicone at the end of the mitten provides stimulation to gums and emerging teeth.

4. Care:

Baby's first tooth should mark the beginning of a proper oral hygiene routine. Bebble's Teething Gel is a very important must-have! This is used to relieve swollen and painful teething gums. This teething gel in non-medicated - made from natural herbs and ingredients and is safe to use for small babies. It has been created to instantly ease gum discomfort associated with teething. It also helps to reduce redness, swelling and pain. Since it is non-medicated, this products can be used frequently without restriction. Simply use a pea-sized amount of gel and carefully rub directly onto your little one's gums without applying too much pressure. The gel can also be applied using the Clippasafe Silicone Teething Brush. This brush has been specially designed to clean and relief baby's mouth, gums and teeth. Your little one will surely start to feel better the moment you apply the gel.
An alternative to the silicone brush would be Mam's Oral Care Rabbit - made of soft microfiber material that is gentle of baby's tender and sensitive gums. Parents can easily clean or massage baby's gums and first teeth. The microfiber ears help to remove plaque and bacteria.
Once your baby can stand steadily on their feet - usually between the 8th and 12th month - you can start teaching them how to brush their teeth with a toothbrush. Bebble's Baby Toothpaste gently cleans your little one's first teeth. Made of natural Xylitol, it prevents the growth of micro-organisms and helps to strengthen the tooth enamel. Our baby toothpaste does not contain fluoride, preservatives or colourants, which makes it harmless when swallowed. Simply apply a pea-sized amount of toothpaste onto a small toothbrush or finger brush. Gently clean the teeth, gums and tongue and rinse with water.
5. Dry the Drool:
Teething babies tend to drool a lot and this may cause irritation to their skin. A drooling bib is definitely a must-have to keep that cute tiny chin and neck are dry! The Nuby Bandana Teething Bibs are the perfect solution! Featuring a soft absorbent cotton bib to keep the baby dry and a teething corner, with multiple textured surfaces to chew on as the new teeth breakthrough, all while being held securely with velcro fasteners.
Bebble's Nappy Rash Cream is another must-have. Made of natural and non-medicated ingredients, this multipurpose 'rescue cream' has been specially developed to quickly and effectively resolve skin problems - It works magic in areas which are prone to redness! Simply apply a thin layer to clean and dry skin and use regularly from the very first signs of skin irritations.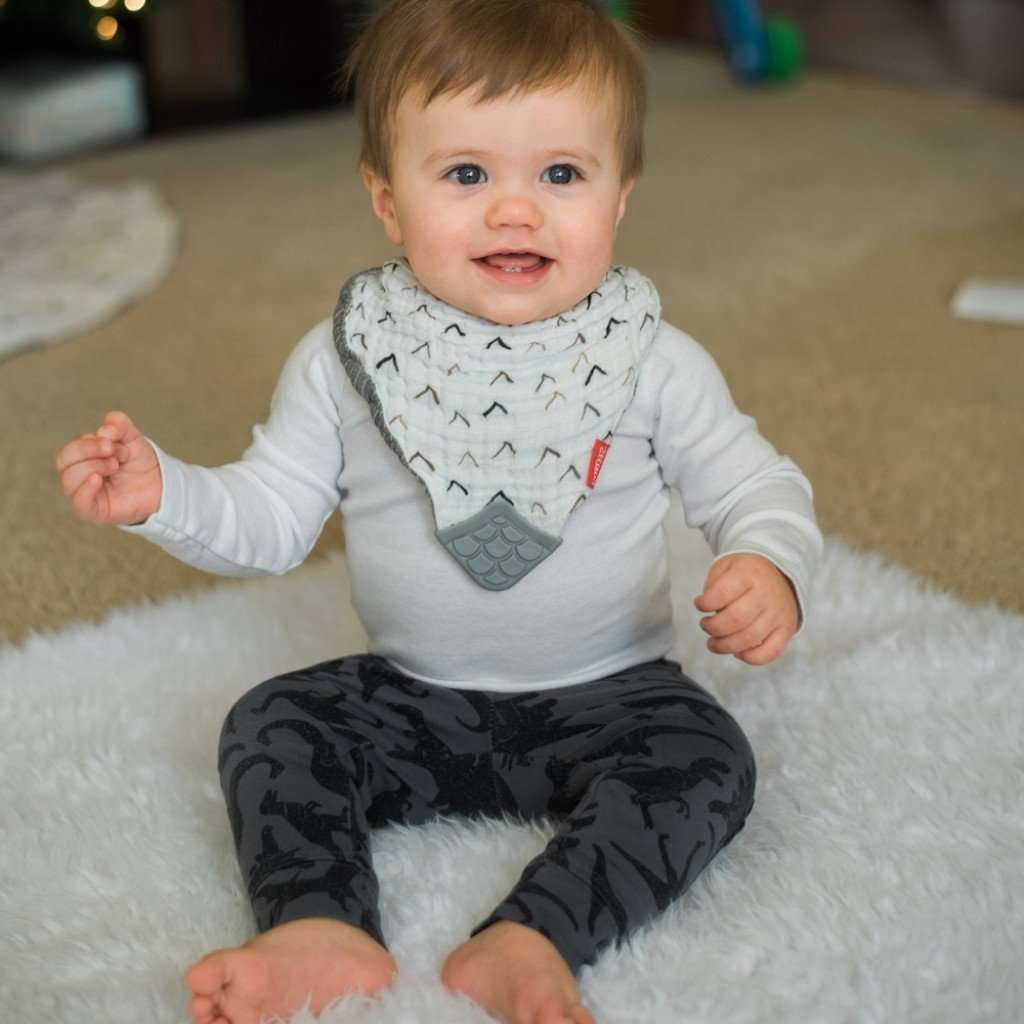 6. Cuddle Time:
If your little one is still suffering from teething symptoms, then it is definitely time for some cuddles. Being there for your little babies definitely makes them feel calmer. Nothing beats a warm cuddle from mummy and daddy!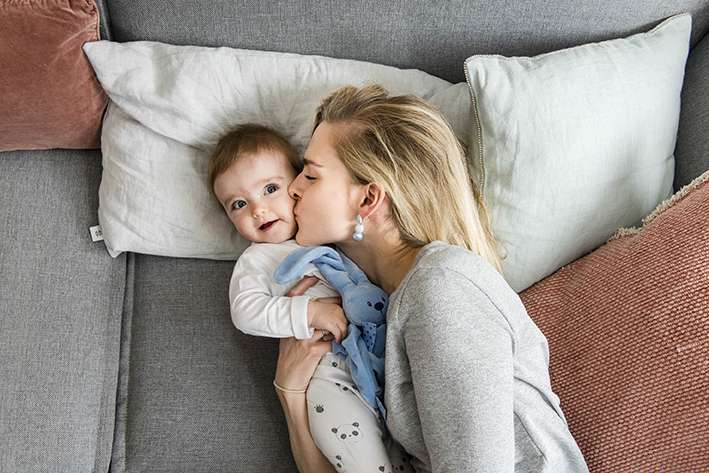 At what age did your little one start teething? We would love to hear your experiences in the comments below!