14 May

During the first 6 months, all baby's nutritional needs are covered with breast milk or formula. From 6 months onwards, you can start introducing different foods to your little ones. Weaning is a very exciting milestone for your little ones! Investing in a food prep robot is definitely a plus for busy parents in busy households.
The Alecto Steamer & Blender has been given a makeover. Thanks to its new look, it blends well with any kitchen style. With 5 functions in 1, this multi-functional robot allows you to quickly and safely prepare fruit, vegetables and bottles for your little ones. The possibilities for use are diverse as in addition to preparation, you can also sterilize soothers, bottles and feeding accessories with this baby gadget.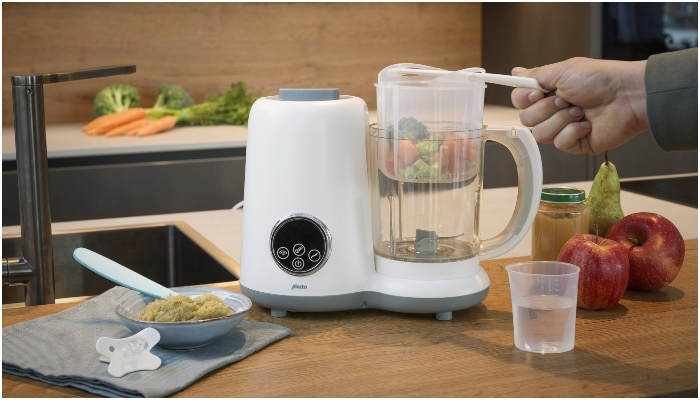 Our favourite features:
Like all the Alecto baby food related products, this blender is made of super safe BPA free materials.

This gadget is designed to make every parent's life easier! You can steam, blend or mash your babys' food in a few minutes.

This blender also has sterilizing, reheat and defrost functions, so you will be able to sterilize objects before use and defrost and reheat your baby's food. Reheating takes just a few minutes and to the perfect temperatures, avoiding the use of other reheating methods such as using a microwave.
We love the Alecto 5 in 1 steamer and blender because it allows parents to prepare fresh food quickly and easily. This gadget has gentle reheat and defrost functions to preserve all the important nutrients and vitamins, so none of the properties of breastmilk and baby food are lost during this process while also keeping the natural taste.

It also switches off automatically after 40 minutes in case you forgot to switch it off - which sometimes happens if you have a crying baby or need to change his nappy!

All parts of the Alecto steamer and blender are made of high-quality materials, are detachable and easy to clean!

This blender has everything! You will receive the blender in a very complete package with handy and fun accessories. This complete kit includes: a steam basket (650ml), sterilization basket and cap, measuring cup (120ml), tongs and spatula. All this for the fantastic price of €110 only!

This product also comes with a 2 year warranty.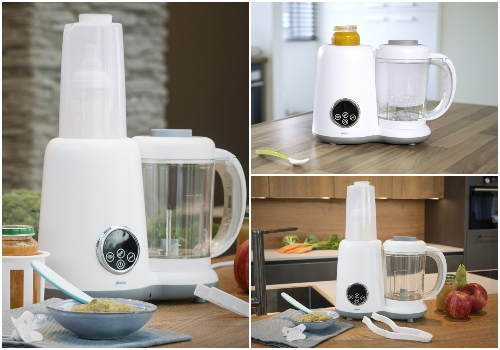 Et voilà! Your baby's food is fresh and ready to be served and eaten or store it in your fridge or freezer for later. Ready to start blending? Click here!
If you are about to start introducing your little ones to different foods, check out our vast selection of food preparation and storage accessories, feeding sets including bowls, cutlery & plates.

Click here to discover more!