Out Of Stock
Click & Collect
Place your order online, and choose Pickup from Shop at checkout. You have a two-day time window in which to collect your order.
Fisher-Price 3 in 1 Crawl Along Tumble Tower
Shake, rattle & crawl, baby! This tower is full of fun activities that are sure to keep the good times rollin' as your child grows! At first, your little one can Sit & Play, discovering sweet surprises like a rollerball and clicker on top and bottom! As baby starts moving more, turn the tower on its side and give it a roll for Crawl & Chase play. When your child is ready for some simple problem-solving, pick the tower up or turn it upside down to make the beads go round & round for Puzzle Maze Fun! Baby will soon discover which buttons and sliders to press to get the smiling beads rolling through the spiral maze. Where development comes into play, Gross Motor  Little ones will have a ball rolling & chasing the tower and its colorful beads, over & over & over again! Problem Solving  Big thinking skills start to develop as baby learns how to move the beads from top to bottom with a press & a switch of a button! Self-Expression  Learning how to open & close each "door" to move the beads down through each section helps build up confidence! 3 ways to play! 1. Sit & Play  The ABC/123 Clicker on one end and a rollerball on the other provide busy, hands-on play 2. Crawl & Chase  Roll the tower along for on-the-crawl fun 3. Puzzle Maze Fun  Smiley-face beads spiral down through each segment, with easy-to-press buttons that keep the beads & maze fun rollin' along Give the clicker a spin to reveal letters & numbers!
Stock:

Out Of Stock

Model:

FPDRG12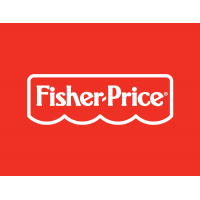 Fisher-Price